ARUP Downtown Los Angeles / ZAGO Architecture
publicado por ArchDaily


Arquitectos:
ZAGO Architecture
ubicación:
811 Wilshire Boulevard, Los Angeles, CA 90017, USA
team proyecto:
Andrew Zago, Laura Bouwman, Dale Strong
superficie:
2500.0 ft2
año:
2014
fotografo:
Joshua White
colaboracion diseño e ingenieria:
Arup, Los Angeles and San Francisco Jon Phillips PE, Principal
empresa contratista:
Parker Brown, Inc.
fabricacion:
Michael O'Connell, MOC Woodworking, Los Angeles (Large lacquered furniture and Richlite desk surfaces) Tom Farrage, Farrage & Company, Los Angeles (Aluminum suspended acoustic and LED lighting element) Christer Lannerholm, CL Innovative Design, Los Angeles (Powder coated steel conference tables with Richlite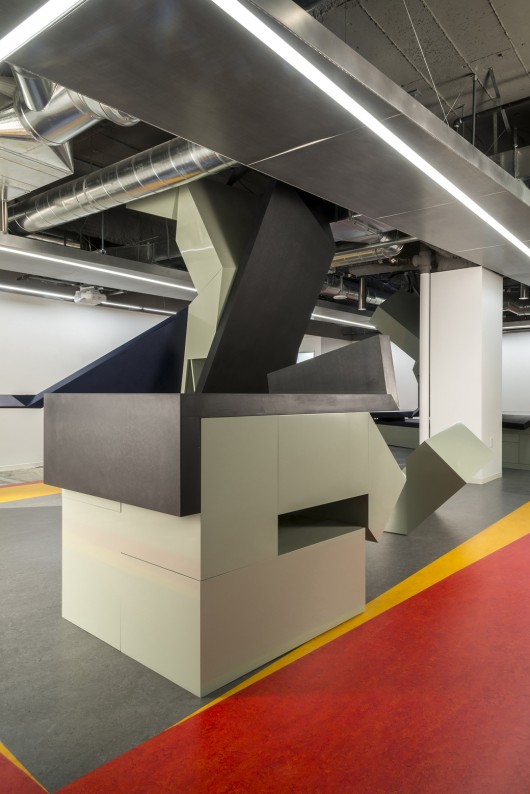 Del arquitecto. Nueva oficina satélite de Arup en el centro de Los Ángeles proporciona un entorno de trabajo flexible y de vez en cuando sobre la base de la actividad basada en modelos (ABW) de trabajo. Un lugar de trabajo basado en la actividad disminuye la dependencia de los diseños dedicados-escritorio convencionales, sustituyendo en lugar de una variedad de entornos de trabajo lleno de matices y no territoriales.
Diseñado en colaboración con Arup, la oficina ofrece un entorno cableado, interactiva y flexible para el trabajo individual, la colaboración, presentaciones formales e informales, la celebración de eventos y conferencias de vídeo. Esta funcionalidad está activada tanto por la amplia tecnología integrada y por una serie de grandes esculturas, instalaciones que sirven como mesas, zonas de estar y de almacenamiento.
Este nuevo entorno de oficina fomenta la colaboración y la creatividad en sus usuarios y claramente señala el carácter progresivo de trabajo de Arup.